UVENTA™ Ureteral Stent
UVENTA™ Ureteral Stent is designed for the malignant ureteral obstruction.
Indication
malignant ureteral obstruction
Features
● Stent : Triple-layered construction (Mesh - Membrane - Mesh)
- The outer stent gives high friction coefficient to prevent migration.
- The inner stent reinforces
overall radial force.
- Three (3) platinum radiopaque markers at both ends of the stent.
- PTFE (Teflon) membrane prevents tissue ingrowth.
- Atraumatic ends prevents reactive hyperplasia at the tips.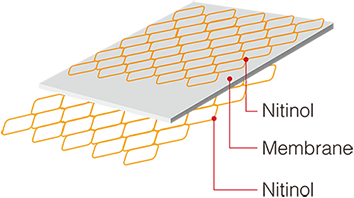 ● Delivery System : Stent Pre-loaded
- The stent is pre-loaded in the delivery system.
- Deployment is easy and intuitive with our pull-back type delivery system.
- Four (4) radiopaque markers on the delivery system to help accurate positioning of the stent under fluoroscopic view.






Articles
●
Comparison of Efficacy and Safety Between a Segmental Thermo-expandable Metal Alloy Spiral Stent (Memokath 051) and a Self-Expandable Covered Metallic Stent UVENTA in the Management of Ureteral Obstructions.
Kang Sup Kim, SaeWoong Choi, Yong Sun Choi, Woong Jin Bae, Sung-Hoo Hong, Ji Youl Lee, Sae Woong Kim, Tae-Kon Hwang, and Hyuk Jin Cho Department of Urology, The Catholic University of Korea College of Medicine, Seoul, Korea. Journal of Laparoendoscopic & Advanced Surgical Techniques 2014
● Complications After Polymeric and Metallic Ureteral Stent Placements Including Three Types of Fistula.
Geehyun Song, Bumjin Lim, Kyung-Sik Han, Sang Hoon Song, Hyung Keun Park and Bumsik Hong. Journal of Endourology 2014
● Palliative Care of Malignant Ureteral Obstruction with Polytetrafluoroethylene Membrane-Covered Self-Expandable Metallic Stents : Initial Experience
Jae Han Kim, Kanghyon Song, Moon Ki Jo, Jong-Wook Park , Department of Urology, Korea Cancer Center Hospital, Seoul, Korea, 2012.53.9.625
● Efficacy and Safety of a Novel, Double-Layered, Coated, Self-Expandable Metallic Mesh Stent (Uventa™ ) in Malignant Ureteral Obstructions
Kyung Jin Chung, MD, PhD, Bong Hee Park, MD, MS, Bumsoo Park, MD, MS, Jun Ho Lee, MD, MS, Woo Jung Kim, MD, Minki Baek, MD, PhD, and Deok Hyun Han, MD, MS , JOURNAL OF ENDOUROLOGY vol 27, No 7, July 2013
● Multicenter Experience of the Newly Designed Covered Metallic Ureteral Stent for Malignant Ureteral Occlusion: Comparison With Double J Stent Insertion
Hwan Hoon Chung, Man Deuk Kim, Jong Yun Won, Je Hwan Won, Sung Bum Cho, Tae-Seok Seo, Sang Woo Park, Byung Chul Kang, Cardiovascular Intervention Radiology , 08 August 2013
● Comparison of a New Polytetrafluoroethylene-Covered Metallic Stent to a Noncovered Stent in Canine Ureters
Hwan Hoon Chung, Seung Hwa Lee, Sung Bum Cho, Hong Suk Park, Young Sik Kim, Byung Chul Kang, Joan K. Frisoli, Mahmood K. Razavi, Cardiovascular Intervention Radiology, 2008